Order a book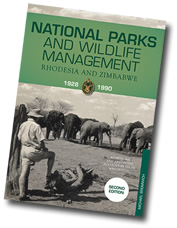 SECOND EDITION
The Second Edition of National Parks and Wild Life Management - Rhodesia - Zimbabwe (1928 - 1990) with updated appendices, tributes and additional photographs is now out.
Online shopping orders for the USA, UK, Europe and Australasia will be distributed from America and South African purchases from either Johannesburg or Pretoria.
For SADC countries, excluding South Africa, please contact us.
© 2023 Michael Bromwich | Login