Reviews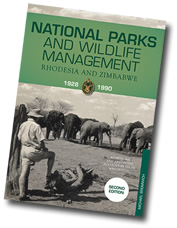 A selection of reviews for National Parks and Wildlife Management Rhodesia and Zimbabwe 1928 - 1990.
Paul Hubbard - Associate Researcher, Natural History Museum, Bulawayo, Zimbabwe
Show full review
Bromwich, M. (ed.) 2014. National Parks and Wildlife Management Rhodesia and Zimbabwe 1928-1990. An Historical and Anecdotal Account by Those Who Served. Bulawayo: Michael Bromwich. 640p. ISBN 978-0-620-61929-5. Price: US$75.
It is surprising that we have not yet had an official history of an organization that manages approximately 16% of Zimbabwe's land area. The surprise is amplified when you realize this land area is largely responsible for bringing in around 11% of Zimbabwe's GDP through tourism receipts and thus deserves some sort of scrutiny from historians as to why this is so. The history of what is known today as the Zimbabwe Parks & Wildlife Management Authority remains to be told in full but in this book of stories Mike Bromwich has done Zimbabweans invaluable service in bringing to light the stories of the people who conserved the natural wonders we take for granted today. This book is not a history of the Department but what it is – a smorgasbord of anecdotal information – is more than enough for now.

The story of Zimbabwe's National Parks can rightly be said to begin with the bequests made in Cecil Rhodes' 1902 will, leaving his properties in Nyanga and the Matobo Hills to the people of this country. These properties were managed in a variety of ways but the idea that land could be set aside for education and enjoyment of the public was a persuasive one. In November 1926 Major W.J. Boggie proposed that the government should proclaim a game reserve. Two years later, in an unprepossessing publication of Government Notice 124 on 24 February 1928, Hwange National Park was born under the able and exemplary stewardship of Ted Davison, who remains one of the true icons of wildlife conservation in Africa.

The rest of the story can be found in the 14 chapters and eleven appendices spread over the 640 full colour pages that make up this book. And what an inspiring story is to be found within these pages, from the fight to save Zimbabwe's endangered black rhinos to the development of world-class community-based wildlife conservation initiatives. Of special interest are the many stories from the "Daga Boys" - ex-National Parks employees and their families – about their experiences and achievements in Zimbabwe's wild areas. Their dedication and passion are probably the main reason why we have these wilderness areas today, especially when one considers the land hunger that has characterised this country for decades.

Duffy (2000: 31) points out that "wildlife conservation is one of the most racially controversial areas of public policy in Zimbabwe, because conservation has a tradition of being perceived as a white domain and its demands for large areas of land means it is in direct conflict with the social and political aspirations for land distribution." In practice, the setting aside of land for wildlife management has been criticised by advocates of land reform as the denial of land to "farmers," although much of that land is not suitable for agricultural purposes of any sort. The fact that wildlife tourism – both hunting and photographic – brings in hundreds of millions of dollars for Zimbabwe should silence these critics and their unreasonable demands. Chapters 10 and 11 provide some basic information as to inception and implementation of the revolutionary wildlife management concepts in the Department although Duffy (2000) remains a better source.

A book of this size cannot be reviewed in full without using several thousand words so I will content myself with making a few observations. The first, which this book amply demonstrates, is that the work done by the Department of National Parks should be about much more than simply collecting money from tourists who pay high fees to visit our natural wonders – as often seems to be the prime focus today. The breadth of research projects initiated by Parks staff until the 1990s is awe-inspiring, ranging from crocodile management to the domestication of eland. This research was matched by a steady record of publications in both scientific and popular for that arguably form the foundation of our understanding of the ecology and management of many species and wilderness areas in Zimbabwe.>

Secondly the efforts of the men and women in the department to simultaneously combat rampant poaching while dealing with tight budgets and an ever increasing responsibility as more land was added to the Department's purview are impressive. Something of especial interest to me was the fact that much of their work was funded by the government and local sources and very few international donors. The budgets always shrank but much was achieved. The situation today is mainly in the reverse and occasionally it seems, with much less to show for it. The controversies surrounding wildlife management in Zimbabwe reported weekly in the national press are indicative that the current system is broken and needs fresh stewardship to rectify it.

Thirdly, the war record of the Department in the 1970's is something that has been overlooked by nearly every history of the conflict and the many stories of bravery, sacrifice and tribulation here deserve a wider audience. Some of the war stories closely resemble encounters with modern-day poachers which shows the current seriousness of this epidemic of wildlife destruction. Poaching, of wildlife, wood and other natural resources, although always an issue, does not seem to have been as serious a problem as it is today.

One striking impression in the history of National Parks is that it was an overwhelmingly masculine department. Women – usually the wives of the staff officers – had as much as men to offer although from reading Chapter 5, it would seem their function was mainly administrative and in the home. This is not to deny the importance of the contributions of keeping an efficient office and happy home nor is it to downplay the importance of keeping a family together in the remotest areas straitened circumstances (see also Peach 2003). I am nevertheless struck by the impression that more women were not inducted as rangers and wardens before the 1990's. There seems to have been little encouragement to even do so. Today there are women to be found at the forefront of bush patrols as well as heading various National Parks as Area Managers (the new and ungainly corporate phrase for "Warden"). A sign of how greatly our society has changed!

And finally, this book is nowhere close to being a history of the Department. We still await the research and publication of a history of wildlife management in this country although aspects have been covered in Child (1995), Davison's (1967) classic and Duffy (2000) among others. But that does not detract from the value of this book, both as a starting point for a serious history but also as an insight into the operations and achievements of one of Zimbabwe's most strategic departments.

Reading this book is not something to be attempted in a day or two – or even a week! Lavishly illustrated and pages crammed with text, the stories this book is something to be savoured. Mike Bromwich should be heartily congratulated for producing an outstanding book that deserves a place on the bookshelf of every person interested in the story of the conservation of Zimbabwe's wildlife and natural spaces.

Paul Hubbard
Associate Researcher
Natural History Museum, Bulawayo, Zimbabwe

Child, G. 1995. Wildlife and people: the Zimbabwean success. How the conflict between animals and people became progress for both. Harare: Wisdom Foundation.
Davison, T. 1967. Wankie: The Story of A Great Game Reserve. Cape Town: Books of Africa.
Duffy, R. 2000. Killing for Conservation: Wildlife Policy in Zimbabwe. Oxford: James Currey.
Peach, M. 2003. My Place in the Sun. An insight into the life of a Game Warden's wife in Rhodesia during the period 1960-1980. (Third Edition). Montagu: Ashton.
Second Edition - James Stephen - Johannesburg South Africa (06.02.2021)
I would just like to say how much I am enjoying reading your magnus opus. Apart from being extremely interesting, your "link sections" are very well written. I assume you wrote the opening chapter on the background and history prior to the mid 1960's as well as much else throughout the book. As an ex conservation officer with Transvaal Nature Conservation am really enjoying reading about those legendary rangers and members of staff via your book. Also having co-written a book last year (on cattle as it happens) I know how much work must have gone into the various drafts. Also you have achieved a very high standard with the photographs used - not one bad one that I have come across and many of them are old photos! Just want to say well done and that all Conservationists owe you a great debt of gratitude for all the work that went into both editions.
Second Edition - Larry Patterson - Botswana (04.01.2021)
After looking through your book before Christmas and being impressed, I wanted to tell you that now, after reading up to Ch 7 in detail, I am awestruck!
It's a brilliant compilation and is giving me one of the best reading experiences that I can remember for many years - congratulations and well done.
I've been in Botswana since 1972 and worked as a vet and survey pilot as well as a researcher on buffalo, elephants, crocs etc but we never did anything nearly as well as your erstwhile colleagues.
I worked a lot with Clem Coetsee, Barney O'Hara, and many researchers like Rowan Martin and Vernon Booth. Their tales always fascinated me and I have always envied them for what they and many more of you managed to accomplish, even while fighting a war!
Your countrymen deserve to be counted among the heroes of African history.
If you're ever up near here please call me, I'd love to buy you a few drinks in appreciation.
Dr. Peter Ashton - Pretoria
This is a quick note to let you know that your parcel arrived safely today; I have also spent about five hours paging through the book – it is a huge work and contains an absolute mountain of information. May I take this opportunity to thank you for compiling this wonderful treatise – I shall continue to enjoy reading and re-reading it for a long time to come! The collection of photos is stunning!
Barbara Wood – Somerset West
Wow, Mike. The book is awesome. I commend you for committing so many years of your life to producing this tome - "lest we should forget". Bravo. Thanks, too, for the limited edition.
Aubrey van Veen - Montague Gardens, Cape Town
What a great production & riveting read, thank you so much for your massive efforts along with you team of assistants. Congratulations to you all for an incredible job. Much appreciated.
Bill Fereday - Durban
The Book arrived today, much more than I expected and worth twice the price.
Hannes Wessels - Montague, Cape Town
I have just collected my book and every new page is a thrill tinged with sadness! What a marvellous effort you have done us and history a huge service! Well done.
Tony Conway - Ezemvelo KZN Wildlife (Zululand)
An incredible amount of work and such a lot you managed to pack in there my friend! A masterpiece indeed to be cherished by all our colleagues, families and friends who served! WELL DONE MIKE. So appreciated!!
Dr. Jeremy Anderson - White River, South Africa
Congratulations. It has far exceeded what I thought it would be. It is not a book – it is a Tome and I am thinking of fitting wheels to mine. It will become very collectable Africana and is a chronicle of a time that we will never see the likes of again. What a privilege to have lived through some of it.
Dr Graham Child (ex Director NPWLM Rhodesia/Zimbabwe)
Just a quick note from Di and myself to wish you the compliments of the season. I am sorry I have been so late in sending this message but time seems to pass so quickly. I also waste a lot of time reading the bits and pieces I have written over the years to revive my memories of what has been a wonderful career in which, somehow, I have always found someone willing to pay me for indulging in my hobby. Needless to say your wonderful book has done much to prolong and add to the exercise, filling many gaps in what were simply anecdotes that had been mentioned to me over time before reading your more authentic accounts of them.
Dr. Colleen Seymour - Cape Town
I just thought I would let you know how special the book has proved to be to us, but I also think to any reader generally interested in conservation in Africa. Thank you again for the book.
I.J Larivers (Editor - African Hunter)
This title, distributed from Hilton, South Africa, was a collector's item even before it was published, such is the mystique of the Department worldwide. It is long overdue, but no doubt well worth the wait when you see how it has been done. National Parks and Wildlife Management, Rhodesia and Zimbabwe, 1928-1990 if there is a must-have title for any Africa or wildlife library for the last decade, this is probably it!
Dr. John Ledger (Editor - Environment Magazine)
Mike Bromwich deserves huge accolades and thanks for his labours of six years that have resulted in this historic work. Thank goodness someone with his background and knowledge had taken the trouble to record this epic period for posterity.
Rev. Kevin Thompson – Bulawayo, Zimbabwe
I have been engrossed with your book for the past few days. My initial impressions have been absolute wonder at the many who served to protect and develop this God given heritage of our Parks and Wildlife. How fitting that your book tribute is to Our Creator - the book not only catalogues facts and anecdotes, but I believe more important than all of that is a celebration of a long chapters of stewardship of God's resources and as such is a tribute to God's grace amongst us. Your work is presentation and craft in compiling such a magnificent record can't go unsung - brilliant!
Colin Lowe - Livingstone, Zambia
Well done on leaving this definitive work on the Department of National Parks and Wildlife Management and the incredible record of the men and women of all colours who worked in this Department which now can never be erased or forgotten.
Cedric Dallas - Cape Town
10 minutes ago I finally put THE BOOK down having read every page, from cover to cover. It was a captivating, educational as well as a motivating experience, having walked one through the achievements and emotions of a dedicated band of wildlife warriors. I commend you for a monumental undertaking in recording the annals of history in an oft maligned land, I cannot start to comprehend or appreciate the task that you successfully undertook.
David Zeller - McGregor, South Africa
Mike, just to congratulate you on a superb piece of work, what a stunning book to add to our library!
Leigh Schroenn - Harare
It's brilliant! Well done!
Kathy Schenck - Charleston, USA
I am in the NC Mountains sitting in front of an early spring fire with many friends who have been to Zim. Your amazing book arrived and we are feeling very nostalgic looking at photos of some incredible people. Clem Coetzee, Mike Fynn...so many great people. You have done a wonderful job. THANK YOU.
Shirley Mundell - Swaziland
Received our books via via via ..... Quickly flipped thru a few pages last night - Oh my heavens - what a feast of the most delightful reading material - I am super excited and will carefully read cover to cover and so looking forward to it ... What an achievement to document it all in an awesome book ... a job very well done and congratulations to you on the end product. Last but not least a very BIG thank you for sharing this info on probably a country with the most fabulous wildlife parks and true genuine wildlife scouts /rangers Africa ever produced ..!!! So many legends out of Zim ...!! The book will ensure their work will never be forgotten ....!!!
Darrel Plowes - Former Provincial Agricultural Director, Mutare, Zimbabwe.
Thank goodness I heard about this book just in time to obtain one of the last few copies! The gathering of all that first-hand information from the staff, both white and black, who served with such distinction and success in our National Parks and Wildlife Department, and then putting all of it together into such a readable format, must stand forever as being a major contribution to wild-life conservation in Africa and around the world, and as an inspiration to many future generations of would-be conservationists. I have always said that Zimbabwe has all the necessary ingredients to be the class-room for Africa, and this book could be an important text book for showing how dedication by individuals from a wide range of backgrounds, and backed by efficient direction and support from capable senior staff, can help to ensure that future generations can continue to enjoy an exposure to the remnants of the environment and its flora and fauna that evolved on this fascinating continent - we have to protect every bit that still remains of that legacy. Mike Bromwich deserves maximum gratitude for producing this extremely interesting and important record: I feel sure that its educational value will be widely appreciated and I anticipate that it will do for our wild-life and environment what Austin Roberts achieved for the birds of Southern Africa and their environment after he published the first edition of his bird book.
© 2022 Michael Bromwich | Login